Rest for the weary!
April 30, 2013 - Author: Jennifer Mylod
Well…  My Piper – surprised me with two, round trip tickets to Rincon, Puerto Rico, while we were at the Green on Tuesday before we were set leave, and I can honestly say I was absolutely thrilled!  We've had a rather hard time since Hurricane Sandy hit us so hard… and we needed some restorative time away.  So we threw our stuff together, and set out… stopping at the Green for a bite to eat before the flight…
Got to Newark International – to discover our flight was delayed… so we opted to make the best of it.  We had a pint at the airport pub, and decided to take out the fiddle and whistle and play some tunes – to wile away the hours of waiting.  A few tunes and we got warmed up and comfortable…  and pretty soon, we had folks sitting with us, people pausing as they walked by, and some even stopping to listen, nodding and smiling. Little children, under their parent's watchful eyes… were dancing and jumping around to the lilting jigs and reels we sent – floating and drifting into the air…  and it seemed to me… the whole atmosphere changed.    More people were smiling… and seemed lighter hearted somehow…  and I think that's what music does. Music brings joy to the soul, and makes one forget – even if just for a short while…  and just moves you – if only for a few instants – to a better place.
By the time we were ready to board the plane, we'd made some new friends out of our traveling companions.  We were met with smiles and friendly nods, as we walked down the isle – to our assigned seats.  I had to actually – laugh out loud, when… while trying to carefully stash my fiddle in the overhead compartment, a man stood up and offered to help me,  saying that he knew – my fiddle was made of gold – haha…  I nodded… and said I had to agree with him!   But… I must admit… I was too afraid to bring my favorite, regular fiddle on this trip…  because – God forbid… if anything happened to it… I'd be heart broken…  so I chose one from my large herd of fiddles I keep… and made sure it was one -that I still – greatly enjoy playing… and brought that instead.   I knew I'd hate to loose it…  I'd hate to loose ANY of my fiddles, but it wasn't my favorite – 'beloved'  fiddle – that I lovingly play every week at the Green…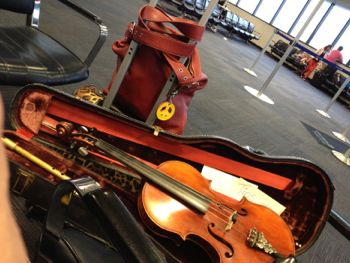 So we spent a week on the beautiful mountains of Rincon… And it was the best of both worlds…  I love the mountains, and Phil loves the surf…  He got a paddle board and spent some marvelous hours – in the aqua, green surf, moving  with the sea turtles…  and on the first morning – he set out – even before the sun came up… paddling out under the huge, sinking moon… and came back to the house hours later – his eyes bright & shining – and so happy at the magnificent morning he'd had in the surf.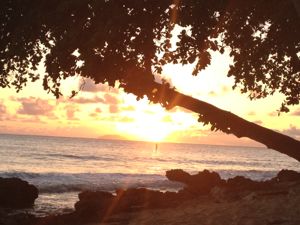 Though this isn't Phil – (above in the pic)…  This is:  Phil on the paddle board at sunrise
During the days… we hung out under the shady trees on the beach,  had a cooler of cold Medallas,  and relaxed in the soft breeze, and the warm air… and just de-stressed…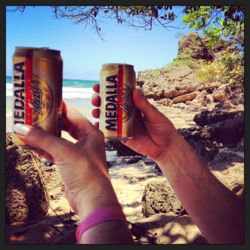 The rest of the week passed between sandy toes, breath taking, mountainous views, delicious food, and some random, no destination kinda adventures that took us all over the island…  all while taking in the fragrant, and vibrantly colored flowers…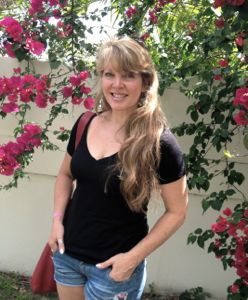 The evenings were spent – after dining…. fiddling the night away – while the coquettes and tree frogs sang along… and of course… sipping wine in the jacuzzi… and talking about the day… and what we'd do the next day…
Sometimes, it's necessary to get away from the world… even if just for a little while…  But even in taking the 'pause that refreshes'… there's ONE thing that travels on – with us at least…  and that is – our music…   The joy and love we derive from the melodies, the combination of notes, the familiar harmonies and the pleasure – it brings, we can never leave behind or travel on – without!
As great as it was…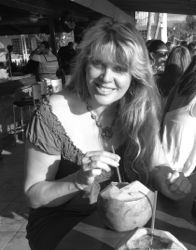 sipping tropical drinks out of big, green coconuts…  I must say…  it's VERY good to be Home!
Comments are closed - Categories: Uncategorized