Mulberry time, from the viewful, tower window…
June 11, 2013 - Author: Jennifer Mylod
Well… the view from my beloved studio window is probably one of the most expressive views I know… for today… the ripening mulberries are heavy and thick… rosing the branches with their varying shades of ruby colored brilliance.  (there's a song in this somewhere)…  but for now, I'm just enjoying the view.
The honeysuckle scented breeze – is gently rocking the ladened branches, and they'll droop from the unexpected alightment of a hungry, rogue bird…  be it a Robin,  a Wren, a Cedar Wax Wing or what-not… the Flickers and their unmistakable call… frequent the tree as well… their voice, ringing into my room through the screened window.    But the leaves & branches look stunning when the sun  brightens the various shades of green in a brilliant sunburst,  and the ripening berries almost seem to glisten – although I know this is way too high for them to catch the morning dew.   And even when the sun – skirts behind a cloud… the dark hues come even more richly out…  for not even the shadows – can dim an angle of this brilliance…
My dear kitty… lounges languidly… doing his double duty in both keeping me company up here,  and enjoying the activity from his lofty perch… watching the birds flit about – as they come and go – his sharp eyes not missing anything…  but his soft, round belly keeps him from wanting to actually pursue any of this activity… haha…  for he is the definition – of a VERY content,  rather – um… fat house cat… who has nothing more to do, but anticipate his dinner, play with toys,  and be his charming, saucy self, and purr, curling up on a lap…and allowing himself to be pet, cuddled & held… oh yes… and chase down an occasional cricket that has the misfortune to alight itself – in the sunroom…
But… alas… I am too easily distracted by these things that fascinate me… and so – I traverse back to this diatribe I began – about my window on the world – as I know it…
In other seasons, my window  is equally as expressive and enjoyable…  when the golden, ambers, oranges and rich shades of Autumn lay in jeweled tones – just beyond my touch,  a full three flights up – this window is…  in the top most part, of the castle…  where,  in Winter…  the branches gently cradle the snow…  looking like someone's dusted the world in powdered sugar…  and oh how I love when it's glistening like diamonds… and a frost covered world… is shimmering in ice… which heartily reinforces the comfort & warmth of my woodstove… and the heat it most cheerfully emanates.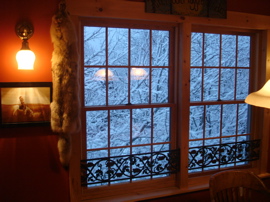 So it's here in this tower… I play my fiddle; and it's here I write my songs; and it's here -I think my endless thoughts… that roll, tumble and weave into poems and songs and verse… and it is here – where my melodies are borne…  while peering at the world, through this glass…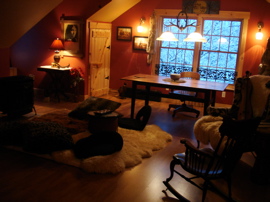 For this is a window – of many, changing views, moods, and feelings…  for oft' times… on a deep, winter day when the trees are cold, dark and brittle…  I can see the cross… from the spire of a distant church…  IF the air is clear.    I can see it – held above the bare, etched branches that look like black lace – against the sky.
This – is what I hold… this is what I see…  this is what I perceive – in my eyes…  up here from my castle tower… where it's very quiet…  save for the lilting tune of the fiddle, guitar or dulcimer, or a noisy Flicker bird…  and so this is the place – where I hold onto my solitude…
I imagine… in my wildest dreamings… that this possibly – perhaps – is maybe a small glimpse – of how an Angel – would view this very small part of this world…   I am grateful for this glimpse…  and believe it's another beautiful gift…    To be given a glimpse such as this… and to not only see, but become aware of this gift of beauty… especially in a world such as it is…
Comments are closed - Categories: Thoughts