Discography
Shadow of a Crow
Acoustic guitar supports resonant, soulful & mystical vocals, highlighted gently with viola, fiddle, Native American flute, tin whistle, percussion, and an interesting blend of vocal harmonies – in an Alternative, Contemporary Folk genre.
Haunted by a passion to write, Jennifer finds endless inspiration in her vibrant, joyful and fun loving perspectives of love, life & nature, in which she surrounds herself. Her rambling life has finally taken root at the Jersey Shore, but she's loved her many years living in New England, Illinois and Colorado. Jennifer's expressive, thought provoking, original songs, artfully entwine her intuitively earthy perspective – as she brings you into her world – through her music. Often compared to Karen Carpenter, Jennifer's voice is soulful & resonant… yet carries a distinct mystical element.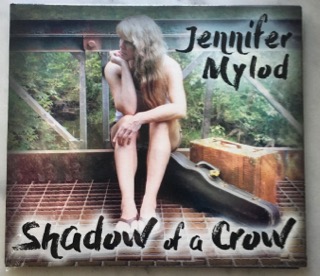 Song Order:
1. Shadow of a Crow
2. Low Willow
3. Ride On
4. Weeping Radish
5. Build a Wall
6. Coyote man
7. Slow Dancing with Ghosts
8. Mantoloking Loon
9. Fly Away
10. No Stars
11. Good Day to Rain
12. Gettin' Outta Dodge
13. She's Gone
14. Journey Home
Mylodic Isle
A compilation of traditional Irish tunes and songs which Jennifer, Philip and John have gathered from their experiences, travels and friends. While they tried to maintain and adhere to the traditional aspects of Irish music, they still have their own strong, unique style, which shines through in their tune and song selections.Mylodic Isle features over half dozen traditional Irish songs, one of which is Jennifer's favorite- "She Moved through the Fair" as well as the traditional song that Jennifer calls "Gypsy-O" -taken from the traditional song "Wraggle-Taggle Gypsy-O" again, slightly revamped to fit her earthy and bohemian style. This – now that the album is out, has actually become Jennifer's favorite… It's a wonderful song that tells the tale of love – from the heart – rather than love for money…"Star of the County Down" takes a new spin under the familiar guitar wizardry of John Wilson's fingerstyle, 12 string guitar work, as well as "Loch Lommond", which glimmers with a beautiful new edge, while still maintaining it's true traditional essence.
Instrumental sets include "Battle of Augrum–Sligo Maid", "King of the Fairies", "Blarney Pilgrim-Joy of my Life", "Morrison's Jig" and many more. They have also included Philip's wonderful Uilleann pipe tune – "The March of the King of Laios" which has become a favorite of many.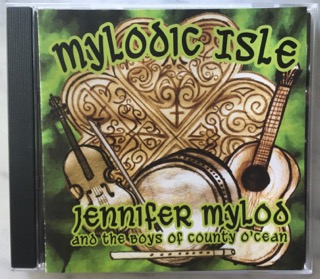 Track list for Mylodic Isle:
1. Ae Fond Kiss
2. As I Roved Out
3. Blackbird
4. Gypsy-O
5. Loch Lommond
6. Maggie (When You and I Were Young – Maggie)
7. She Moved Through the Fair
8. Star of the County Down
Mylodic Isle's Instrumentals are:
1. Battle of Aughrim/Sligo Maid
2. Blarney Pilgrim/Joy of my Life
3. Fraher's/ Rolling Wave
4. Goat on the Green/Morrison's Jig
5. King of the Fairies
6. March of the King of Laois
At This Moment
Jennifer's debut recording, comprised of her own original material. She sings, as well as plays Mountain Dulcimer, Native American flute and cello. Philip Mylod joins her on the Irish Bodhran and assorted percussion, while guitar wizardry is provided by John Wilson. Tom White did most of the engineering and contributed solid support on violin, whistle and bass. Abigail Mylod also adds cello.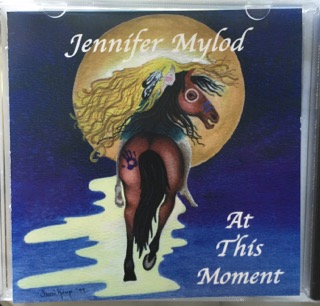 Song List for "At This Moment" – all original songs written by Jennifer
1. At This Moment
2. Graveyard of the Sea
3. Time Just for Us
4. Full Moon Maggie
5. Fragile Child
6. A Circle of Trees
7. Wintercast
8. The Wild One
9. Time will Go On
10. Remembering
11. Princess of Hay
12. Old Kitchen Table
13. Lullaby Moon
14. Huyler's Lasses (aka Dunmore Lasses)