In the darkening skies of Christmas Eve…
December 24, 2013 - Author: Jennifer Mylod
In the quietness of Christmas eve…  as the day dims to a close…  and the Winter Solstice… is still hanging thick, dark… and enveloping us in the cold, winter air… in these moments… I can't help but reflect on the year's events…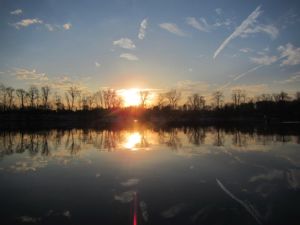 The awful storm Sandy, and what she left us in – and out of…  ahh, but then – the Spring  came anyway…  and with it, the wonderful, beautiful gardens that sprang… once again from the earth… leading us boldly into the beautiful, languid days of summer.  Days filled with the rich fragrance of bountiful flowers, warm earth,  mossy trails,  and of course,  the plentiful veggies – that were gifted from Earth's garden…  (and my somewhat artfully disheveled –  "Garden of Weedin' as I like to call it…)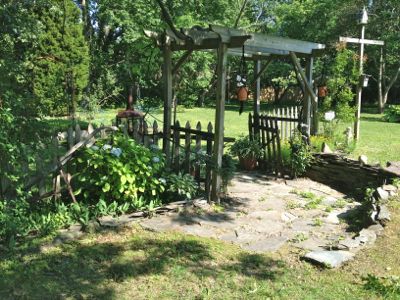 Then Oohhh… there comes the breezy… star lit nights, and all the wonderful days… in the long weekends of camping – under the blue, velvet nights…  when the fires crackled… and the sparks from the flames – traveled up towards the sky… until the sparks – blended with the twinkling stars…  and became one…  oh,  it was beautiful.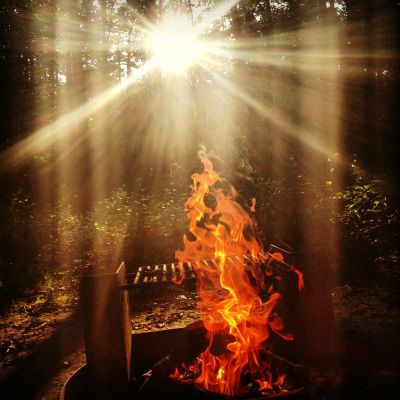 Almost as beautiful – as the morning of the Summer Solstice… when the sun rose on my little camp… beaming through the trees, on a beautiful, summer dawn.
Then, the cool fingers of Fall crept in and encircled us…  and yet… the camp fires continued to burn brightly in the cooling, Autumn nights…    I can say,   all in all… it's been a very good,  joyful,  (albeit complex at times – of course) plentiful year.
Things changed,  and things improved – in so many areas of life this year…  and though I tend to buck change…  I have grown weary of doing so…  and have decided to just embrace change…  for it is  -always- there… and things are always changing…
I remind myself – that there has been, through everything this year, the blessings of good health, strength, fitness,  and happiness…   And so now I find myself – drifting gently down….   like a downy feather,  moving, sweeping gently in the wind…  coming to rest… on… the Eve… of  Christmas…  and it makes me feel, strangely…  rarely,  still.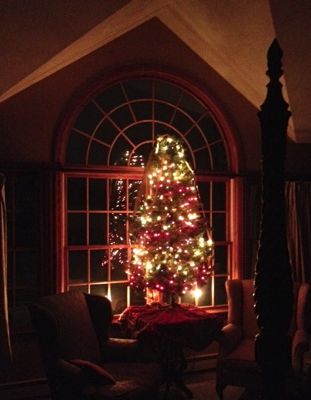 Tomorrow…  for us Christians… is the holy 'Night of nights'… the night that…  if I choose to feel it  – I can  move…  much closer to God,  than I do at all other times – during the year…    Idk…  maybe it's just me,  but I think this is one of those nights when…  maybe God… is a little bit more gentle…. more thoughtful, more open – to patiently listening to the silent, murmured prayers I offer up… and maybe – more than any other night in the long year –  he perhaps… understands me better…
I guess what I'm saying is…  I know I'm not the most reverent person  – and probably make God raise a questioning eyebrow a bit more than most do – now and again…  And I think… he probably BROKE the  "Jennifer"  mold… deliberately – after I came along…   always shaking His head in dismay… or holding His head in His hands, listening to me with dread…   But I think that maybe – on Christmas… it's a little bit better, and maybe I have a better chance at saying to Him…  what I need to,  what I want to.      And that is…    Thank you.
Well… anyway my dear friends…  I'm just wishing you, a Merry Christmas…  May God grant you… peace, joy and health…  and music… Ohhh… lots and lots – of wonderful music!   Happy holidays, Merry Christmas and a wonderful new year to come!
P.S.   Here's my puppy… "Sligo"… a Border Collie…  and although he wasn't thrilled about wearing this Santa hat…   he did it for me…  because I asked him to,   and he loves me!   🙂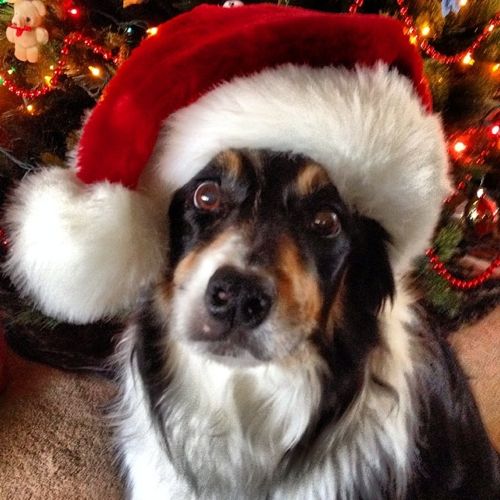 Comments are closed - Categories: Uncategorized