Liner Notes
Special thanks & notes on "Shadow of a Crow"
My Mom gave me my first cello, my first fiddle, and first, custom made, mountain dulcimer.  She always had music playing in our home, so I grew up listening and loving the syncopated rhymes of Simon & Garfunkel; the passions of Johnny Cash & Tom Rush;  learned to see the beauty & simplicity of the earth, through the lyrics of John Denver & Judy Collins; and learned about love from Karen Carpenter.
These words can never be enough to thank my Mom, for her unfailing love, guidance & encouragement in everything I've set out to do.   She taught me how to be a free spirit… and yet, by her example, how to always keep my feet – firmly planted on the ground.
"Gettin' Outta Dodge" is dedicated to my dearest friend, Marni Crooks & our beloved horses Henry & Clay.   Sometimes… there's just no words for some 'stuff' in life… except for maybe a few.  Through our decades of friendship, we have never had a cross word between us, and have been through so much.  But I will always smile when I think of our seemingly endless trail rides in the woods with 'the boys'… and our wonderful lunches together…   Those times with you were THE BEST ever!!!
Special thanks to our Producer and dear friend – Tom White,  for his wealth of creativity, input, inspirations, & heart felt friendship,  which has been one of our greatest musical influences.  And to Geri White, for opening their home to us during this rather lengthy project!
This album has been a tremendous  journey for Philip & I… through a lot of challenges and adversities. I am deeply grateful to have Philip's unfailing love,  generous support and creative encouragement in this mystical, crazy, musical journey we're on.
JENNIFER'S  personal notes on the songs
 Shadow of a Crow:     Written by Jennifer Mylod ©;   Vocals: Jennifer Mylod;  Guitar: John Wilson; Native Flute: Philip Mylod;   Percussion: Tom White
This song, inspired on a trail ride when I was out on my horse 'Clay'.   I was out riding for hours… meandering through the woods… and realized I was being followed by a huge crow.  This crow would fly over my head ahead of me in the trail… waiting for me to catch up…  and seemed curious about me, as I rapidly became curious about it.   It almost became a game between us.
I got back to the truck & trailer & got Clay loaded on the trailer – and driving back to the barn, was sitting at a red light… and I saw the crow – fly over in plain sight – just above my windshield!   I knew I had to pull over and write this all down…   So, flashers on, & sitting on the side of the road – I wrote this song.   Sometimes that just happens to me,  and I long ago learned that when that kind of inspiration comes…  I have to stop and write it down!   I always carried a small saddle bag after that,  hooked to the D rings on my saddle…  and kept a small blank book & pencil.  When Clay felt me shift my weight – to turn to reach that bag… he'd stop.    He knew I had to write.    He'd wait till I was done, standing quietly as I wrote – usually in the middle of the woods – then, book & pencil tucked back away… he'd take a deep breath…  and walk on.  I loved that horse – SO much.
I got Clay when he was 13 years old… and I can honestly say I cherished every single day with him.  So the song, "Shadow of a Crow" holds a very dear place in my heart.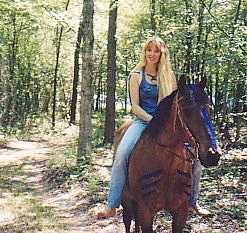 I boarded Clay – for about 15 years, at Jessi & Howard's farm.  During those years,  Jessi & I became close friends… and her insight and wisdom about horses was enriching & educational for me, and not only a time of learning, but created a deep and introspective thoughtful friendship with Jessi.
Jessi's unique outlook on life, love, faith and family – inspired me to look at things – (yes, even spiders) from a gentle, spiritual, curious and joyful perspective.  We rejoiced in so many things… like the joys and colors of the seasons, a feather we'd find, the colors of the sky, the first sound of the peepers in the spring, and the list is endless.   Clay & I spent over 15 years at Jessi's farm… until Clay died, at the age of 29.  It's been years now, since Clay is gone,  and yet still… my eyes well up with tears just typing this today.  That big, sturdy bay horse, with black legs, tail and maine…  with only a small, white, crescent moon on his forehead…  was my soul mate.
2.  Low Willow:  written by Jennifer Mylod © :  Vocals & guitar;  Jennifer Mylod;   Lead guitar: Tom White;   Drums: Mac Davies;  Bass: Jon Soble
I'm talking to a crow in my first song… and in this song, talking to not only a horse, but to a willow tree.  This song's a combination of a few willow trees I've thought were beautiful and inspiring…  and loving that my horse would always come running when he saw me… heck, he'd come running when he heard my truck coming down the dirt lane!   He'd start heading for the gate – anxious to cut loose and head out into the woods with me!  I didn't need a saddle… and he was always ready to take me away… like my hairy knight in shining armor.  That was his job… and our rides were so beautiful that I think he loved it as much as I did… and the long brushings and pamperings that followed our rides!   The song's just kinda a dream sequence… starts out real… but ends in a dream…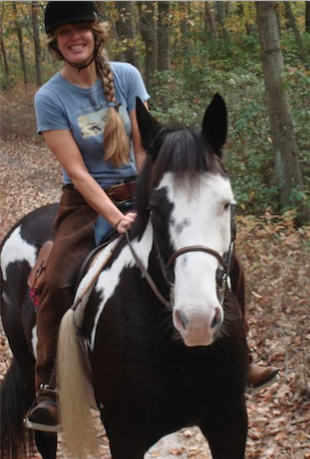 3.  RIDE ON:  Written by Jimmy McCarthy.  

Jennifer Mylod: Vocals, harmonies;  Tom White: Guitar,  Bass & Percussion; Eric Pedrotty, harmony;  Drums: Zack Nickles;
I opted to add a cover song on my album, and this is a gem.  I have the wonderful, back up vocals by a good friend, musician and band mate – Eric Pedrotty.  I marvel at the wonderful texture in his voice, as he harmonizes with my vocals – on this song.  He and Philip have a lovely tin whistle duet, which gives me chills.
4. WEEPING RADISH:  © Philip Mylod:  Native flute;  Jennifer Mylod: Mt dulcimer, fiddle;  Tom White: Guitar & percussion
Philip came up with this Native flute melody one night while we were sitting out on the porch.  I had my new Bear Meadow – Concert Grand – dulcimer that is a total JOY to play.
Philip begins a light melody behind me on a High Spirits Native American flute,  as I just ran through some chords…  the next thing we know… the tune rose into the air and I said… "Let's record it!"     We sent a quick MP3 up to Tom, our producer…  and on our next trip to the studio, we recorded it live. Tom was our 'click track'  with his steady foot & rhythm guitar – after I began the melody on mountain dulcimer.    Phil came in with his melody, and in 1 take – we had it down…  a sure sign it was meant to be.    The percussion was added later.
I have no idea where we came up with the name… it's a bit of a soulful tune… and it was Spring & we had been discussing the idea of putting in the garden… and what we'd plant… haha… so Weeping Radish was born.
5. Build a Wall:   Written by Jennifer Mylod ©2016   Vocals, harmonies: Jennifer Mylod;  Guitar & harmony vocals: Tom White.
This was inspired by my observation of those I've known and loved – who build barriers around themselves… to prevent themselves from feeling emotion – or from getting hurt.
I've observed different levels that people go to, to do this, and I can't comprehend shutting out those who truly & deeply love you.  I watch people just existing,  living a charade – and focusing life on labels  & symbols – in things they can buy… which, in the long run, hold no real important quality – in life.   I believe life is about the love we share.  It's about giving love- and feeling/receiving love in return… all to the fullest extent.  I believe everyone has someone, somewhere… that special one…  who knows & sees you… and who hears you, and understands… and when you build a wall…  they – like a vine – tendril in… finding that small crack in the armor…  and they seep into your heart…  If they love you that much, why shut that love out… why build a wall?
6. Coyote Man:  Written by Jennifer Mylod ©       Jennifer Mylod:  Vocals & guitar;  Tom White: dobro;  Drums: Zack Nickles;
This is just about the 'scene' –  dating, flirting, and all that stuff… I'm a people watcher… and I see lots of things that go on,  and so I wrote about it… just a light, fun song.
7. Slow Dancing with Ghosts:  Written by Jennifer Mylod ©.   Jennifer Mylod: Vocals;  John Wilson: Guitar;  Tom White: Guitar & effects.
I first heard about the Native American saying – to not to 'slow dance with your skeletons' from my dear friend, Jessi K…  I found it a fascinating concept – and came up with this song…
Tom White crafted this arrangement…  If you're not really focusing or not truly listening you'd probably just feel it as subliminal…  it's got such a strong, mystical undercurrent… and I was more than stunned when he showed me how he was taking my vocal tracks in the back ground… flipping them over,  & giving the instrumental the feel that it was some etherial, ghostly kind of portal we were moving through…  Tom, in my mind – is a pure, creative genius.  I'm thrilled with what he did with this song… haha… even the 'space ship' sound… hahah… idk what that is… but I've come to love it!
8.  MANTOLOKING LOON:  © Philip Mylod:  Native American flute;  Tom White: Guitar, viola; Jennifer Mylod: Native flute;
The haunting, surreal feelings evoked in this tune were inspired in the wake of Hurricane Sandy – which horribly devastated our neighboring town of Mantoloking, NJ & many other towns on the Shore.  The ocean came raging in, and reopened an ancient inlet, that dates back in it's existence – to the days of the Lenape Indians.
The song was created one night,  by a bonfire with our musical friends on Wilson Lake, in Maine.   We were sitting around a magnificent bonfire, beneath the stars and the clear blue night, and as the sun set over the mountains…
the night became even more enchanted, when the haunting songs of the loons rose up from the dark waters of the lake, in seemingly perfect pitch with the Native American flutes.  The two songs melded together through the cool night air, within the shadows of the crackling fire… which, if you listen carefully… you can actually hear… on the track.
Native American flutes were crafted to reflect the sounds of beauty found in nature.  Philip created this melody, feeling it embraced and honored the soulful beauty he found.  In this recording, Philip used Odell Borg's – High Spirits Flutes –  http://highspirits.com.
Philip also created the Native flute melodies for "Mantoloking Loon" & "Weeping Radish",  as well as the soulful, counter-melody on the song – 'Shadow of a Crow'.
9. FLY AWAY:  Written by Jennifer Mylod ©.    All Vocals: Jennifer Mylod;  Guitar & Banjo: Tom White:  
Everything has it's inspiration… and I guess this one – is probably about me…  as I do tend to fly away…  I take my little camper … and go.   I have a dozen or so – favorite, secret 'haunts'  that I like to hide… and get my feathers smoothed down again – in the cool, dark quiet of the woods, where I can finally just breathe again.   I watch the weather, wind and temps… and when they are all working together – I actually do,  just up & fly away… simple enough.
I guess… being an only child… if I don't have quiet, or down time – to myself… where I can write, or play music, read, think or just breathe…  I stressed out.   I also won't watch TV, listen to the radio or news any longer…  as I find it overwhelming & too upsetting – which makes me overwhelmed.  So I fly away when I need to find the quiet of the woods, water or mountains… to get myself collected…  and my favorite happy place – is my little ATV camper that I affectionately call "Tuffy".
I'm VERY fortunate that Philip is okay with this, but he knows how I am… and he's so very patient, kind & understanding.
10. NO STARS:  Written by Jennifer Mylod ©.   Vocals & guitar:  Jennifer Mylod;  Guitar & mandolin: Tom White; Bass: Jon Soble.
One of Philip's and my favorite things to do, is go outside at night and watch the night sky and our favorite constellations, as well as the waxing and waning of the moon's cycles.   But,  we all get there sometimes…when we can't wake up and smell the coffee… because we can get down in the dumps…. so much at times,  that the stars in the sky, or the moon, or any other beauty around you – is not see-able.
11. GOOD DAY TO RAIN: Written by Jennifer Mylod ©.  Mt. Dulcimer & Vocals: Jennifer Mylod;  Guitar: John Wilson & Tom White;   Piano: Gail Sprain;  Viola: Tom White.  I wrote this song out in Santa Cruz at a friends home after the recording of our first cd was done…  Just a calming song about getting time to breathe… and resting…
12. "GETTIN' OUTTA DODGE"  Written by Jennifer Mylod ©.    Fiddle:  Jennifer Mylod;    Guitar: Tom White;  Doumbek: Carson White;  Shaker: Philip Mylod.   I have opted to break standard protocol with this recording, and kept this tune  'AS IS'  –  simply because nothing in life is perfect… especially me.   I love playing fiddle, and I have tons of fun with it… but I do mess up.   I've never held myself out to be any kind of "virtuoso"  and though this tune's pretty much just a fun spoof…  I felt – even though this track has got a mistake in it, and some laughing… it reflects how – after I crash & burn…  that with a little help from my friends…  I pick myself up – and just keep on going!
13. SHE'S GONE:  Written by Jennifer Mylod ©.  Guitar & Vocals:  Jennifer Mylod;   Dobro: Tom White;  Bass: Jon Soble; Drums: Mac Davies.   Inspired just by my observations… experiences… and life.
14: JOURNEY HOME:  Vocals: Jennifer Mylod;  Guitar: John Wilson;  Keyboards: Mike Bernard.   It's a story…  it's a journey… Like my Momma always says…  "no one skates through life."
Musician List
Jennifer Mylod: Vocals & harmonies, guitar, fiddle, mountain dulcimer, Native American flute.
Philip Mylod:  Native American flute, Irish whistle
Tom White:  Guitar, dobro, viola, mandolin, harmony vocals & percussion
Eric Pedrotty: Harmony & Irish whistle
John Wilson: Guitar
Bass: Jon Soble
Piano: Gail Sparlin
Keyboards: Mike Bernard
Drums: Mac Davies; Zack Nickles; Carson White
(C) (P) Jennifer S. Mylod 2016 – BMI  –  All rights reserved
All songs are written & composed by Jennifer Mylod – EXCEPT for "Ride On" by Jimmy MacCarthy…  for which mechanical licenses were obtained for print & digital use. 

Produced & Engineered by :Tom White
Recorded at:  Wizmak Studio, NY   &   Full Moon Maggie Studio, NJ
Album Graphics, artwork & photography by:  OriginalAbbie.com