Violin lessons! Ocean & Monmouth Counties!
September 6, 2019 - Author: Jennifer Mylod
Being a musician runs in my blood.  I was born into a musical family, playing music & singing.  As a small child, I figured out chords on my Aunt's little, Baritone Uke, & sang along with my Grand-dad, Mom & Aunt.  Then after we moved to Colorado, my Dad made me a mountain dulcimer.  I was 8, but playing the mountain dulcimer became an unquenchable passion. My bedtime prayers always ended with… "and let me learn to play the dulcimer better."   In retrospect, that mountain dulcimer – was the best Christmas gift ever.  Today, I am fortunate enough to have a few beautiful dulcimers… a Jerry Rockwell Baritone dulcimer,  a Bear Meadow Concert Grand and 2 lovely Dave Fields… I still take great joy in the sweet tones of this instrument… and find I write most of my original songs – first, on dulcimer.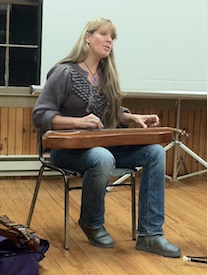 Then, I took the baritone uke chords I knew,  & applied them to my dad's guitar.  He had a fancy guitar, and I really wasn't suppose to play with it… but I very carefully took it out, and played it whenever I could, after school.   My Mom showed me a few chords and I took off with it…  I bought a $2 classical guitar at a garage sale when I was about 14… and played that old thing for years.  Then, many years later, my Mom got me a beautiful,  Taylor 855 12 string, with action like butter… and I just love it.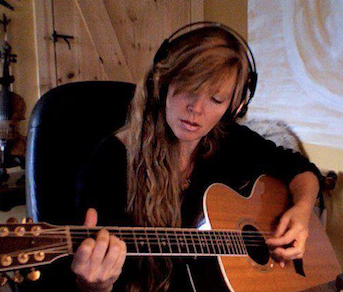 In 4th grade, my school fortunately had a music program, so I joined the orchestra.  I will never forget the look on my Mom's face – when I walked from the bus stop, taking the short cut through the corn field, lugging a cello.  Though we didn't have a lot, my parents scraped the money together to make sure I could attend the 2 weeks of summer music camp – at the University of Illinois, each summer.
I happily stayed with classical music, joining various orchestras, spanning from that first school orchestras, into an adult baroque orchestras, to finally landing in the Ocean County Adult Orchestra here in NJ.   But when we moved to Ohio – I had to put the classical world on hold, but I kept my mountain dulcimer & guitar with me.
It wasn't too much later – that I found an old, German violin in a 2nd hand shop. I latched onto it and quickly applied all my cello skills to the MUCH smaller, and TONS easier to fit into the car – violin.   Needless to say, it didn't take long for me to fall in love with the violin.   At this point Philip & I had begun searching out every Irish cd we could find, and we discovered found Kevin Burke, Martin Hayes, Maurice Lennon, Junior Crehan, Bobby Casey and more… and we found great bands like Silly Wizards, Danu, DaDannan, Arcady… and the list goes on and on.  So again, my desire to play violin – became unquenchable.
Philip, the kids and I attended Irish Arts Week in the Catskills for way over 10 years… and I took lessons with awesome violin / fiddlers such as Tony Demarco, Willy Kelly, Patrick Orseau, Kevin Crehan, (Jr's grandson)  and many more.  Philip… in the span of all these years… first began with the Bodhran – an Irish frame drum stretched with goat skin.   He became a wicked good bodhran player and would drive the fiddle tunes while I played.   Philip then quickly gravitated to Irish whistles, and a wooden, Irish flute…  and finally his love for Uilleann pipes got hold of him, and now he's quite an accomplished piper…
    I most thoughtfully gave Philip a bouzouki one year for his birthday… & we took turns playing it… but I fell in love with it – because it's rather similar to a chromatic dulcimer!  In hindsight… it was a rather selfish gift… haha… but we love it!
.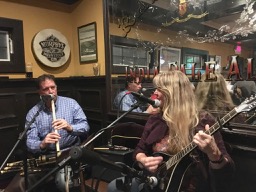 Philip took me out to the now gone – but at that time, very popular shop called "Mandolin Brothers" in Staten Island – where he got me a beautiful, sweet toned,  1918 Gibson mandolin.  I always loved to play violin in the car, when we took road trips, but  sometimes I'd accidentally poke him in the head with the bow…   so a mandolin was MUCH better for me to play in the car, while Philip was driving!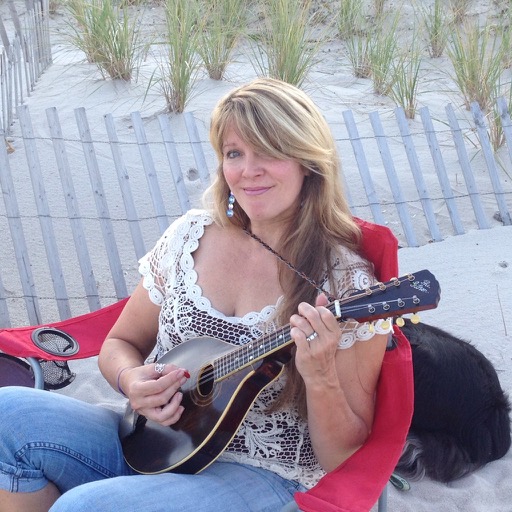 Add to this whole crazy mix, there's a 'herd' – of soulful, native American flutes… in all different, and complimentary keys… that are super easy to grab & play – whether we're out by the garden bonfire on cool summer night, or watching the sunset off the front porch… a native American flute duet is often ringing through the night here… <3  It's  haunting, and beautiful notes drift on the air… like Loons, singing on a shadowy, summer lake.   So needless to say,  this house has musical instruments from NT Instruments -EVERYWHERE!!!
I can say quite joyfully… that our kids have grown up too now, in this musical family, & all of them play instruments.  Often nights, we sit on the porch together, and instruments come out and we just enjoy playing tunes or singing together.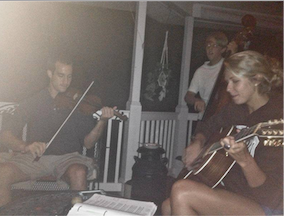 The photo below – was our first 'musical' family photo. Abbie plays cello – & toured Europe with her orchestra;  Em plays guitar, fiddle & sings… & Philip Jr – plays stand up & electric bass… and pretty much any stringed instrument he puts his hands on, in various tunings.  Was so happy he asked to take the Baby Taylor guitar -off to college with him.
Amazingly, even mostly grown up now – I just have to smile at the realization that all our kids have found relationships with friends & partners who share a love of music!  (Em even married one of my fiddle students!) Abbie… however, with now 4 babies… doesn't have as much time as she'd like for music… but she will again soon, I know it!  And her husband's Mom – is one of my dear, musical friends!   And my Mom – learned to play dulcimer a few decades ago… and we just have such fun playing tunes together. Ahh, this all – just makes my heart SO happy, music is such a good thing!!!!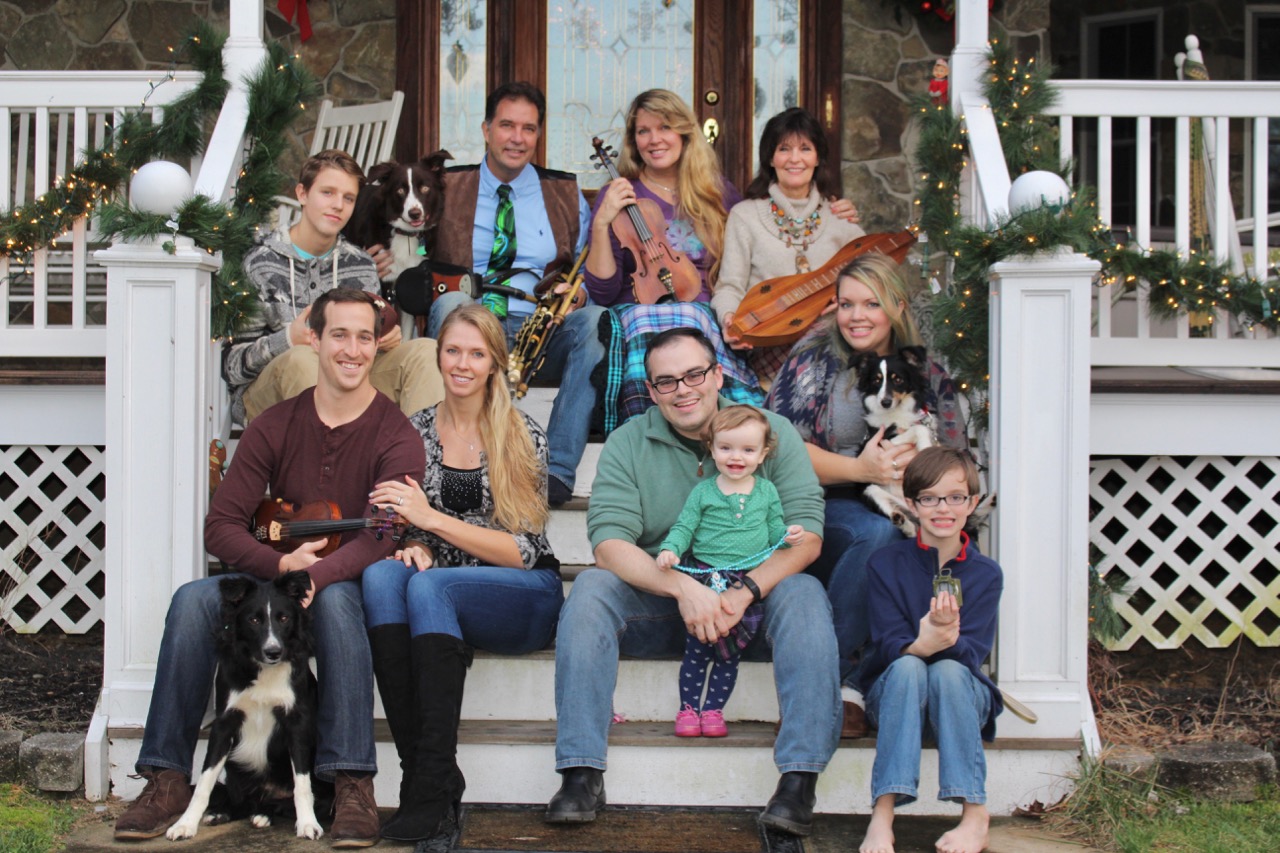 SO…  Where am I going with all this?  As many folks ask me:  "What's the difference between violin & fiddle?"  My answer always is:  It's the WAY you play it.  And I'd also add… I believe a classical violin is played with the eyes, because you read the music and follow the bow direction.   vs.  A fiddle… which is played from the heart, because most of the time, the tune's in your head, and you just play from memory.  As the tunes ARE played from memory, I believe the tunes will reflect your feelings at the time you play it.  This is how I perceive it.
So OK… when did I begin teaching Violin?   I began teaching violin – 'Irish fiddle' to be more precise… in 2002  when I was asked to replace the current, but retiring – violin teacher at an Irish Step dance school in Spring Lake, NJ.  I accepted the position &  taught there for 1 year.  I had a large, wonderful group of students, but when the school year ended in May, and the Summer began…  many of my students wanted to continue with their lessons for the summer… and so – teaching violin out of my home – began.
Since 2002…  I've taught homeschooled, pre-school, elementary, intermediate, high school, college & even graduate students.   I have many adults, and many retired students who are following their life long dream to play violin.  I'll never forget one of my students called to inquire about lessons, and said his dream was to play violin (fiddle) on his porch some day.  I get that… it's one of my favorite past times! But must say, one of my most favorite, beloved students – was a fine lady – who I taught for years… she was a local librarian.  Sadly she had a very bad stroke, but I spent years then,  and helped her get herself back to playing violin.  She was one of the most rewarding students I've ever had the joy to teach. Seeing her joy, in regaining her abilities to play again… brought me joy.  It was a labor of love. I truly – honestly LOVE teaching violin, and love sharing  Irish tunes, traditions and style with my students.  I share my secrets to playing, and making it achievable for them, to the best of my ability.
I've worked very successfully with students who have learning disabilities, autism or ADD.  I believe music is a universal language that I seem to be able to speak – quite fluently… and I take joy – in sharing what I can with my students so that they can learn to speak the musical language and find the joy that I find.
I currently have availabilities open for group lessons or private lessons.  Violin, Mountain dulcimer, or beginner guitar.  I'm open minded & flexible.   So… give me a holler if you're interested!  Let's make it work for you!!!    Contact me at  WinterCastSnow@gmail.com or Jmylod@Gmail.com…
Tunefully, Jennifer
Comments are closed - Categories: Uncategorized