In these mid-winter days
February 10, 2014 - Author: Jennifer Mylod - Comments are closed
Well,  even for a winter lover like me…  I can honestly say – there certainly seems to be many beautiful snowy mornings to wake up to this winter!   I still love the grey, heavy, snow filled sky… hovering overhead… and the bare branches – etched against the dim morning sky…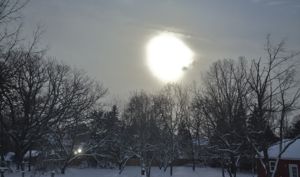 And although it definitely dampens my beloved cycling  hours – & completely nixes my road bike big time… and daunts Mt biking a bit –  I still love Winter!  The colors, the sounds & how the crisp air smells like evergreens and holds my frosty breath in white puffs…   There's nothing more beautiful than the subtly of all the tones of gray… and how the whites – seem tinged with shades of blue and purple…  and how intensely vibrant the winter birds are in their plumage…  I love to watch the birds… hungrily flock around the feeder each day.
So… of course… cycling – being out of the question – I must find ways to get outside… & discovered the quad comes into play quite nicely – & brings the deep woods filled with beauty right up close – and I enjoy the long, beautiful rides on the trails out back…
Now… How cool is THIS?  A woman with a dog sled!?  In NJ?  I've gotta say –  I love New Jersey!  We've got ocean beaches,  lakes,  rivers, bays,  mountains,  flat lands,  pine lands,  forests,  x-country & downhill skiing,  camping,  kayaking, waterfalls,  hiking and tons of trails for horses…  And all of this – a short distance away from everything!
A snowy hike is always good… and I do LOVE being outside!   I long ago discovered – with the right gear – lots of light layers and good socks & boots – (and a hot mug of coffee)…  I'm good to go!
But I guess I'm a bit brave about Winter… humm…  spoiled actually…  as I know, when I get back from my outside fun… that waiting for me – is my fiddle & a bow – a sweet mandolin  a bodhran – and sometimes – even an uilleann piper!
GADS!  and dare I forget… always waiting – is the ever present, ever purring… always lounging by the fire… the total portrait of  a perfect "HOUSE cat"… warm, fat, well fed – and ready to curl up in any lap that's available!  my boy – BINX!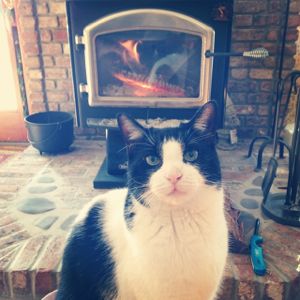 And of course… the winter wouldn't be complete… without lots of good cooking…  Had lots of mid-winter gatherings with lots of good food, music, friends & family…  and my Mom can whip up the BEST Yorkshire pudding in the world!  Mmm!
Sooo….  good food, wine, lively tunes, friends & family, a warm blazing fires… and many charming companions – of all sorts have made the Winter…so good…  and I love it.
So… I will fiddle away within the remaining weeks of Winter… and learn to be quite content in it.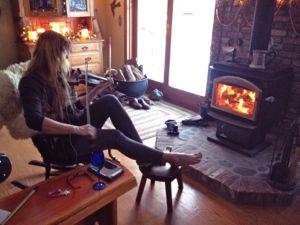 And even now – as I write this… a Winter storm is blanketing us – yet again – in another blanket of quiet white…     I enjoy the calm, quieting  "shhhhh"  – that Winter seems to whisper…  as He slows the hectic pace of the world down, yet again,   and makes everything and everyone – once again – becomes still…
Enjoy folks… look for the beauty in the day, & do the best you can do.  Nothing we can do about the weather… but make the best of it!  Stay warm & be safe!  xoxo Jennifer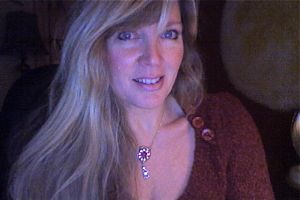 Categories: Uncategorized