Long time gone… But I'm back!
April 16, 2018 - Author: Jennifer Mylod - Comments are closed
Been 8 months since I've posted. Idk where the time goes.  I've been immersed in music & the 3 bands keep me busy for sure. Then add fiddle lessons into the mix, and the plain old hecticness of life, and there ya go!  But I'm contentedly distancing myself from the frequently consuming social media & electronic gadgets which in so many negative ways – can be isolating & consuming -at the same time.  So limiting those elements… has left me in a position to truly enjoy living a real life.
Been savoring my time outdoors… whether it's simple hikes with the dogs, kayaking, camping or gardening… but even putting up wood in the woodshed for seasoning is great.  I just enjoy the physical activity & how it all so pleasantly fills the 'spare time' I have now  remaining – between working 3 part time 'jobs'.
Hah… I put 'jobs' in parentheses… because I enjoy these 'jobs' so much… & so it doesn't seem like work… but rather a pleasure – which is a gift.   Teaching fiddle – as always is the most rewarding experience and I enjoy it the most;  gigs are always fun with the band – and I'm grateful to now be in our 12th year, playing weekly on Tuesday nights at the Green… 12 years!!!!  It's more a home away from home, and the staff & patrons are like family.   Thirdly, I enjoy putting on my 'tech'  hat… and log in billing / time slips… which for me,  is the most non-creative task – that… dare I say… is rather refreshing from my non-stop… 24/7 – creative mind, which often prevents me from even sleeping at night – because I've got so many great thoughts and ideas rattling around in my head.
So to catch up these last 8 months in a paragraph, I'll hit the fun highlights.   I found a small kitten… or rather, he found me.  Did NOT want another kitty… but despite protests from Phil – I brought it home.   The vet weighed the little waif in – at barely 10 ounces… and in retrospect… I realize now most of that weight,  was worms…  EW.   But he's doing well now.  Philip came up with the name "Kombucha"…  since he said it seemed to fit him, and me.  So little "Bucha"  has been a nice, somewhat naughty, but always loving addition to the family… and he is happily thriving now.
Bucha  truly believes he "owns" our dog Boone…a Border Collie.  "He's chocolate, and has delicious legs"  Bucha is the Boss!!!
Then we spent 2 amazing weeks – at a beautiful, stone cottage in Dingle, Ireland, and met some of the most wonderful people.  Our hostess – Philamena – is a beautiful heart, and I felt like I'd known her forever and a day.   A more kindred spirit – one would be hard pressed to find.  She's a gem, with a kind & joyful heart.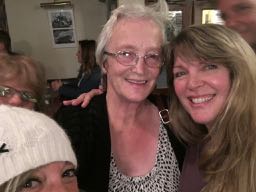 Arrived at the cottage, to find warm, home made scones & fresh bread on the counter, and a blazing, cheerful, peat fire in the fireplace… courtesy of Philamena.  The view from the cottage… at every glance, was breath taking!   The days were beautiful and  I can not WAIT to go back.
We took advantage of the amazing & endless trails & hiked 3-4 hours every day – taking in the earthy rolling hills of moss and heather.  We rambled up & along the glorious trails & frequented the foot path of the "Dingle Way"… which was my favorite.
We traveled with one of my fiddle students, and friend – Teri,   for the first 5 days. (she's the photo-bomber in the pics!  hahah)   The 3 of us rambled around & played music every night in the local pubs.  Then we met up with 2 other friends from home – Terry & Pam,  & the fun continued on!   Ahh!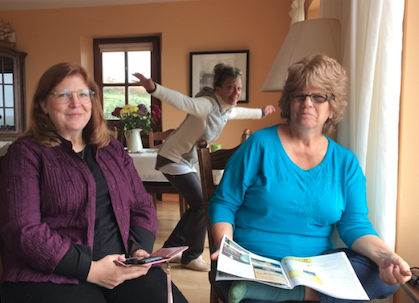 I was thrilled on our first night in town, to run into Nuireann Nic Amhlaoibh – from Danu… at Tommy O'Sullivan's pub… and she asked me to sing, which was an awesome way to start the trip!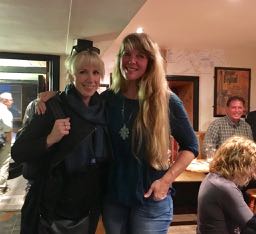 Took horses up into the mountains… which was just breath taking for views & the horses of course… I loved.   Every day was unbelievably better than the next!
Came home to find the holidays were upon us… and as we began to immerse in all the jolly fun… a bad turn brought Philip down fast.  He was home – recovering for over 12+ weeks from a WAY too near death experience.  It was one of the most frightening things I've known… but thank God, and many fine doctors – he's ok now.
2018 moved in & brought the sad loss of not one – but two dear friends.  One friend I corresponded with in Canada, a sweet & feisty Irishman… sweet Ray… who was terribly ill for so long -and fought bravely for years.  I miss him & the poetry, songs,  thoughts and friendship we shared for years.  Then the terrible loss of a very dear friend, & long time fiddle student, Lynn.  She worked so hard to get back from her stroke. Together, she & I worked to get her playing fiddle again.  She had come so far with moving home and living on her own… so her sudden passing was a shock.  Oddly… she passed on the date of our first lesson years earlier…  & at what would have been our weekly fiddle lesson…  both which I found strangely & oddly coincidental.  She was an amazing, strong woman and I shall miss her greatly.
My son… (Pictured below with my mom) is now a Jr in HS…  holding a 3.75  GPA  & standing at  6 foot & 7.5 inches tall…  is endlessly talking of college, basketball teams,  and all the places he wants to go… ah  I know he will be flying from the nest soon… and that… quite frankly – leaves me feeling a mixture of sadness…  & profound pride.   I'm proudly watching him make choices in his life… choices about his future… and I am seeing – quite clearly – what an honorable, diligent, insightful and respectable man he is so quickly becoming.
So… this leads me thinking of the inevitable empty nest…
I am by nature – never bored… and always find things to do that are needing to be done, fun, creative or constructive.  And how many tunes can I possibly keep learning???  haha!  But I always take time to learn new tunes but the potential time that is opening up ahead of me… leads me to thoughts I've had for years now… a dream actually… and well…  I just decided to finally – go for it!!!    I found a local farmer & had him build me a custom coop.   I researched as much as I could, and went & bought baby chicks… and I'm keeping chickens!    I'll love having fresh eggs each day, and the additional manure to compost for my ever expanding gardens… so it's win-win & will be a wonderful addition!  I did a LOT of research actually, before I undertook any of this… 2 years of reading and searching and finally bought 6 of the kid friendliest, cold & heat hearty, best laying breeds of chickens… and have started my own little flock.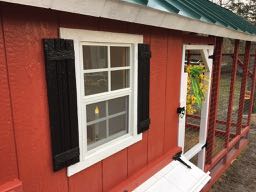 So here's my coop… and yes, that's a little battery candle in the window.   But this is not your every day, run of the mill coop… it's what I'm affectionately calling – "Cluckingham Palace"…  aka  "Coop-de-Ville".  I had it custom built for the easiest, most convenient, efficient  cleaning,   and… being married to a man who'd once been a fine detailed, carpenter… Philip very cheerfully outfitted the interior with beautiful wainscoating & moldings that are charming, pretty… and heck,  he put the FUN… in functional!!!  When the weather clears up… we will install all the predator proofing – including underground, welded fabric wire.
I've fallen in love with the chicks… and named them all.  I'm surprised that they each have distinct personalities and are actually – surprisingly affectionate!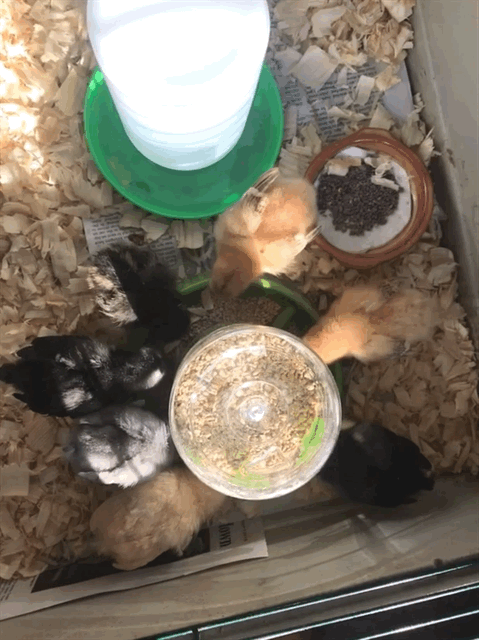 This has also given me the incentive (do I really NEED more incentive?)  to add another garden.  While Philip was customizing the coop for me, I had fun digging a large, 12′ x 5′  kidney shaped herb bed that is conveniently placed – next to the path to the coop.   I can pick fresh herbs on my way back & whip up some good, wholesome breakfasts in the morning.  Herbs are a marvelous wealth of preventatives, & healthy supplements  that contain bountiful healing properties for people & chicks.  The chicks are being spoiled with warm, herb mash on cold mornings… and even an occasional herbed scrambled egg.  I've also been delving for quite a while now – into herbal benefits, wild foraging & have been doing online research & courses – on holistic & medicinal herbs.  Fascinating course of study!  Definitely compliments my kitchen witchery!!!  haha!
So if all goes as planned… the chicks will move out to Cluckingham Palace in May sometime… and I'm estimating I'll be gathering beautiful, brown eggs by late August.  Research claims – I'll gather 26 eggs a week… from 6 chicks…  but we shall see.   But for right now, I'm enjoying having them in the house…  sheltered in the sunroom, safe – in a super huge guinnea pig cage…  & away from the VERY curious border collie & 2 cats… who sit avidly at the french doors, staring through the now nose print covered glass, thinking what I can only interpret – as unkind thoughts… it's never boring… that's fur sure!
So… there's just not enough time in the day to do everything I love or want to do!  Life is good!  Follow your passions!
Tunefully,  Jennifer
SaveSave
SaveSaveSaveSave
SaveSave
SaveSave
SaveSaveSaveSave
SaveSave
SaveSave
SaveSave
Categories: Thoughts