Shadow of a Crow
September 9, 2016 - Author: Jennifer Mylod - Comments are closed
Got word today, that my cd -"Shadow of a Crow"  is totally finished!  The replication process is complete, and it was ready to be picked up!!!   So I took a drive out to the factory to pick up the cd cases…  and I am so thrilled!  FINALLY!
I can't help but think about the fact that this is quite a mile post… and I suddenly feel like that little girl again…  and I hear the echo of my small voice… rising up from the back seat of my Mom's car… hopeful, questioning, asking at least 400 times…   "Are we there yet?"
And this time, I hear:   "Yes Jennifer…  We're here."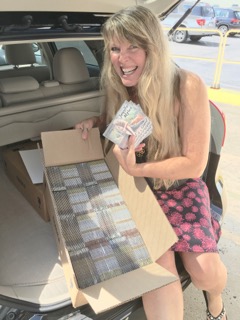 I've been pouring over – all the computer forms for CD Baby,  and nicking away – slowly at updating the artist (me) profiles,  bios and album notes.   I want to say everything – just right…   but this totally has my head spinning…  and it's leaving me exhausted at the end of the day.  Even in my sleep – I'm contemplating all the words I chose,  and re-composing this or that… and – needless to say, it's not a very fitful night's sleep…  zzzz…
Then throw into this mix…  that I've got 8 new songs that were 'just born'….  and they're churning – in the swirling eddy of my mental river of inspiration…  so… all this stuff is swirling about in my head – and add  the possible melodies & music that goes along with each song…  and wellllllll…  I'm just a tad bit MORE than overwhelmed.    But I'm not complaining… and I joyfully accept each and all bits of inspiration & insight that's given to me…  and view it as a beautiful, cherished gift – from my Guardian Angel / Muse.
I would venture to guess… that what's going on in my head – is similar to the brewing works of a "mad scientist"  – and would be lying if I said, I've never fleetingly felt the urge to yell… from my studio loft on the 3rd floor…   "ITS ALIVE!!!!!!"  as I'm being flooded with thoughts typing as FAST as my fingers will move… as I'm concocting zillions of combinations of words that reflect the images and thoughts I try to portrait…
Ok!  So… short blog for now… thrilled with the new cover – (Artwork, photography & graphics – by Original Abbie:  https://www.facebook.com/originalabbie/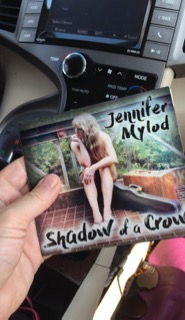 And here's an idea…  Contact me through my website here,  or email me at WinterCastSnow@gmail.com – and mention the offer from this blog – and I'll waive the shipping & handling costs – if you order the new cd "Shadow of a Crow" – which is only $15…  But I can only do this IF you purchase it directly through me.       If you go through CD baby – you can hear the 30 second samples for each song… but you'll pay $15 + shipping & handling.   So if you'd like to save the shipping… order it here through me…  Just a thought!
I also – now have Paypal buttons!
Jennifer
Categories: Uncategorized